About Our School
Our Vision

Our aspirational vision is
'If you can dream it, you can do it' and 'Be the best we can be.'
OUR  FINTRY  VALUES
Having a core of values which we can all relate to is very important for our school.  Our values were chosen through discussion and consultation with pupils, parents, staff and the wider community.  These values are shared at assemblies, celebrations of achievement, in class and should be evident in staff and pupils and the wider work of the school. 
Our beautiful 'Values' windows which are incorporated into the front entrance of our school were designed and made by the children. They are a constant reminder of what we believe and how we want to behave as a school society.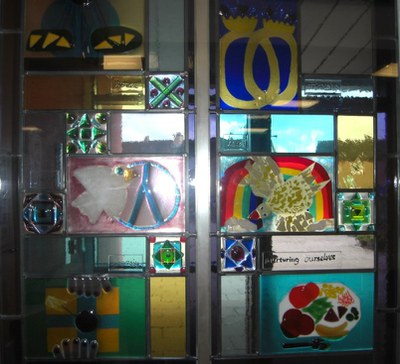 At Fintry Primary, to enable us to be
Successful learners
Confident individuals
Responsible citizens
Effective contributors
 
We aim to:
provide a welcoming, safe, nurturing, supportive and stimulating environment which will enable each child to achieve his/her full potential, equip each pupil with the necessary foundation skills to meet the challenges of the present and future, and develop positive attitudes to lifelong learning.
encourage and support each child to develop in a climate of co-operation, trust and respect for others while promoting his/her self-esteem and wellbeing.
establish, develop and maintain effective partnerships with parents, support agencies and the wider community, and together, help in the process of each child realising his/her full potential, irrespective of gender, race, belief or disability.
achieve this through the continuing lifelong learning of a committed, caring staff, high quality leadership and management, and the recognition and promotion of achievement and excellence for all.
 (Aims have been reviewed and revised in consultation with staff, pupils and parents)